Nanjing, China — February 21st, 2022 — Htek, the industry-leading unified communication equipment manufacturer and solution provider, has officially launched the Wi-Fi & Bluetooth USB Dongle WFBT60, which supports both Wi-Fi and Bluetooth, allowing users to easily connect IP phones to Wi-Fi and Bluetooth devices, providing flexible and convenient unified communications solutions for enterprises.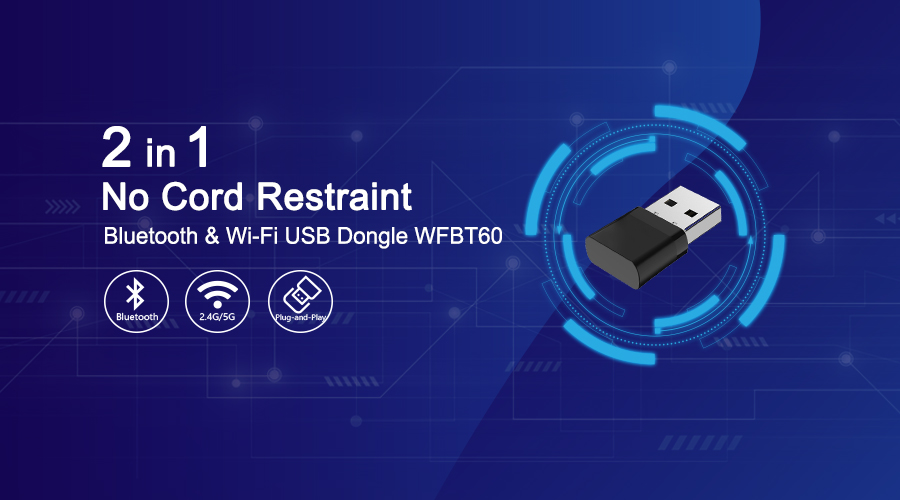 2 in 1, No Cord Restraint
The WFBT60 delivers advanced connection functions equivalent to flagship phones to mid-range phones, and its highly popular USB 2.0 interface allows a wide range of phone models to connect to Wi-Fi and Bluetooth devices.
√ Support Htek IP phones UC924U/UC923U/UC921U
Plug and Play, Safe and Reliable
WFBT60 owns the ability to establish Wi-Fi connectivity easily and quickly, and deliver a flexible and convenient product experience to users.
√ Support Dual-band Wi-Fi (2.4G/5GHz), intelligently respond to signal interference from nearby wireless devices, and cover a wide range of usage scenarios.
√ The wireless data rate can reach up to 433Mbps, enabling faster office file transmission and smoother audio calls.
√ Comply with IEEE 802.11a/b/g/n/ac Standards, guaranteeing the security and reliability of the network.
Enjoy HD Voice, Anytime, Anywhere
The WFBT60 helps the phones to connect to Bluetooth devices, supports remote control of the phone from Bluetooth headset, providing an excellent experience of intelligent office.
√ Support Bluetooth specification: V4.2.
√ Be widely compatible with various brands of Bluetooth headsets.
√ Support HD voice transmission.
√ Support users to answer incoming calls / terminate calls through Bluetooth headset.
Please contacts us at sales@htek.com for more information, or you could click the link WFBT60.
About Htek
Htek is a world-class designer and manufacturer of enterprise IP phones and gateways. Since 2005, Htek (aka Hanlong Technology) has provided customers in over 90 countries worldwide with high-quality VoIP products. Htek's UC900U series IP phones continue the tradition by focusing on cutting-edge features, broad SIP compatibility, great value, and an industry-leading warranty. Htek distributes its products via channel partners, and custom designs and rebrands products for large partners such as ITSPs. Nanjing Hanlong Technology Co., Ltd. is a private company headquartered in Nanjing, China, with offices in LATAM, North America and Europe. Visit us at http://www.htek.com/